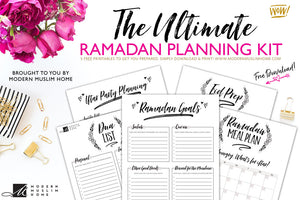 A free gift for you through our The Ultimate Ramadan Planning Kit blog post.
This free kit contains 5 awesome printables that are available for instant download in a PDF file format to be printed on 8.5" x 11" paper. You can even laminate them to make notes with a dry erase marker!
--
Be sure to check out our other Ramadan Decor Printables, too! They're the quickest & easiest way to decorate your entire home for Ramadan. 
We also sell Islamic Candles, Mugs, and Throw Pillows that make the *perfect* gifts for Ramadan, Eid, and all year round.
Amazing
Amazing. Barakallahu lakum
This was absolutely perfect!!
[Free] Ultimate Ramadan Planning Kit Download
Great general planner
This is the first planner that all my kids from ages 6-16 were each able to fill out. It not only helped them to reach their goals and be more organized but their answers helped me to plan the meals and arrange the gifts, treats and things they wanted. They were also always ready with their dua ideas at the time of iftar!
[Free] Ultimate Ramadan Planning Kit Download