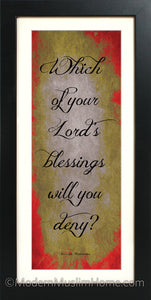 The sun. The moon. Your eyes. Your ears. Your health. Your family. Your home. Your everything. All from Allah.
Allah (swt) asks us in Surah Rahman, repeatedly, which of your Lord's blessings will you deny? There's a reason we're asked this question so many times. When life gets tough, it's easy to just see the negatives and forget all of our blessings, but that's really just the opposite of what we should be doing. A thankful you = a happy you.
Surah Rahman lovers, hang this one where your family will see it often.

 
Product Specifications
| | |
| --- | --- |
| Text | Which of your Lord's blessings will you deny? -Surah Rahman |
| Frame Colors Available | Black |
| Frame Orientations Available | Vertical |
| Design Colors Available | Standard |
| Product Weight | 1.5 pounds |
| Product Dimensions | 11 x 22 x 0.75 inches |