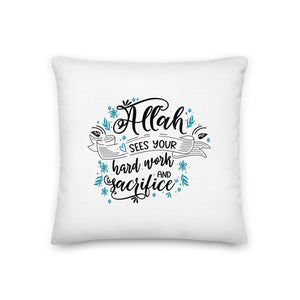 "Allah sees your hard work and sacrifice"
Whatever you pour your heart and soul into, whatever difficulties you might be facing, Allah sees ALL of it. He knows your struggles, He hears your silent prayers. Not a leaf falls without Him knowing, and never does a person put effort into something good without Him seeing it. May your reward with Allah be so much more than you can even imagine. <3 

Specifications:


100% polyester case and insert
Front print, hidden zipper
Machine-washable case
Shape-retaining polyester insert included (hand-wash only)
18x18 inches in size (approximate)
Please note we are experiencing some pillow processing delays due to Covid-19. Each pillow is made with love and is currently taking 3-8 business days before shipping.
If you order mugs/candles/coasters along with pillows, we'll ship them out faster so you can enjoy them sooner than later, and the pillows will reach you after inshaAllah (so you'll receive them in separate packages). Thanks for your support and understanding during this crazy time!